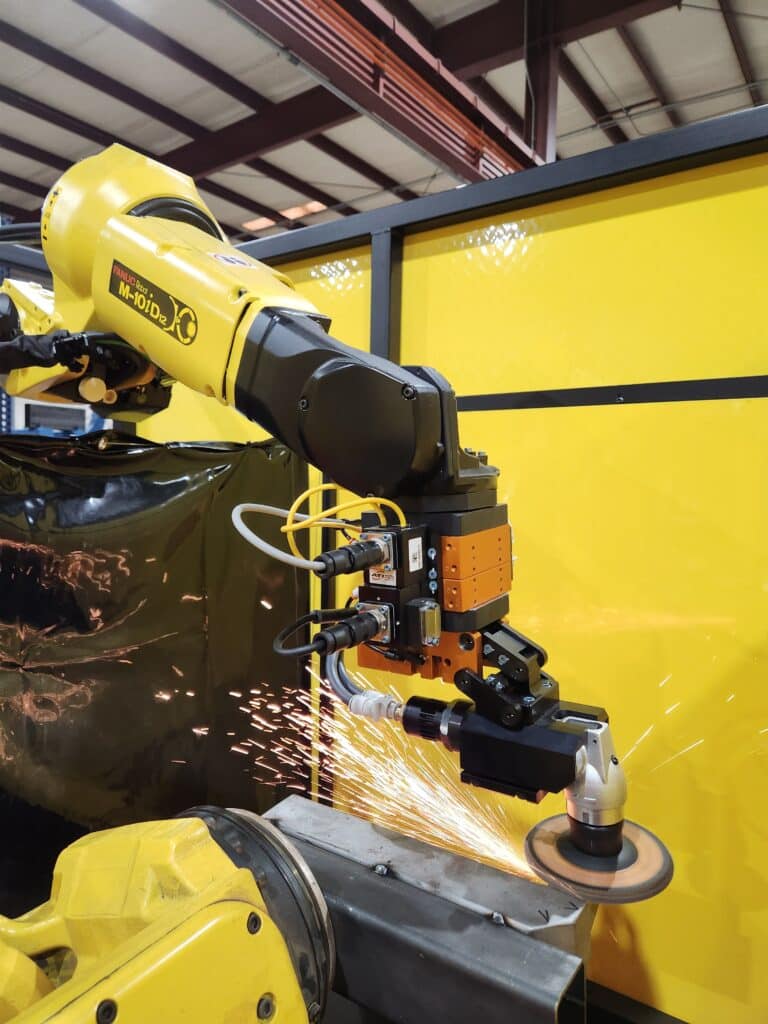 WeldBot, a FANUC exclusive integrator located in Akron, Ohio and a long-time supplier of welding robots is now offering a turn-key robotic grinding system that utilizes ATI Industrial Automation's Compliant Angle Grinder (CGV) and QC-29 Robotic Tool Changers.

The Robotic Grinding System is perfect for any metal part that can fit within three cubic feet. The system features two FANUC robots with DCS for unlimited part positioning and includes a collaborative zone where the operator can safely load or unload the part from the material handling robot. Once the operator is safely outside the collaborative zone and starts the cycle, the door will close, and the material handling robot will present the workpiece to the grinding robot to begin the operation.

WeldBot's system is enclosed on all four sides with a downdraft table capable of filtering both steel and aluminum, the flex curtains help to contain up to 80% more debris than just a downdraft system. The system comes pre-configured to allow for easy programming of up to 90 different part models.

Mounted to the grinding robot, ATI's Compliant Angle Grinder (CGV) offers built-in compliance, allowing the unit to compensate for irregularities in part surfaces and maintain contact with a workpiece. The compliance force is adjustable, enabling users to fine-tune their finishing processes in real time. The CGV also features built-in position sensing to help indicate media wear and gravity compensation that enables the CGV to apply the same force to a part, regardless of its own orientation to the workpiece.

For additional flexibility, an ATI QC-29 Robotic Tool Changer is included for automatic exchange of multiple finishing tools. The QC-29 has four mounting flats for optional utility modules to pass through pneumatics and electrical signals to provide versatility for additional finishing tools as needed.

Learn more about ATI's Compliant Angle Grinder here.
Contact ATI for more information.
Click here to learn more about all our Material Removal Tools.
GrindBot