WeldBot focuses on the most challenging application in Robotics, Arc-Welding. With this focus we are better able to meet the challenges associated with welding more so than any other FANUC Integrator. Robotics and Welding each require their own expertise, when you combine them a new and unique subset of skills are required to be successful.
With being brand exclusive to FANUC and not trying to know every available robot platform we truly understand the FANUC controller and can push the limits as needed.
FANUC is the most sold robot in the world, welding holds our world together, WeldBot knows both better than anybody else.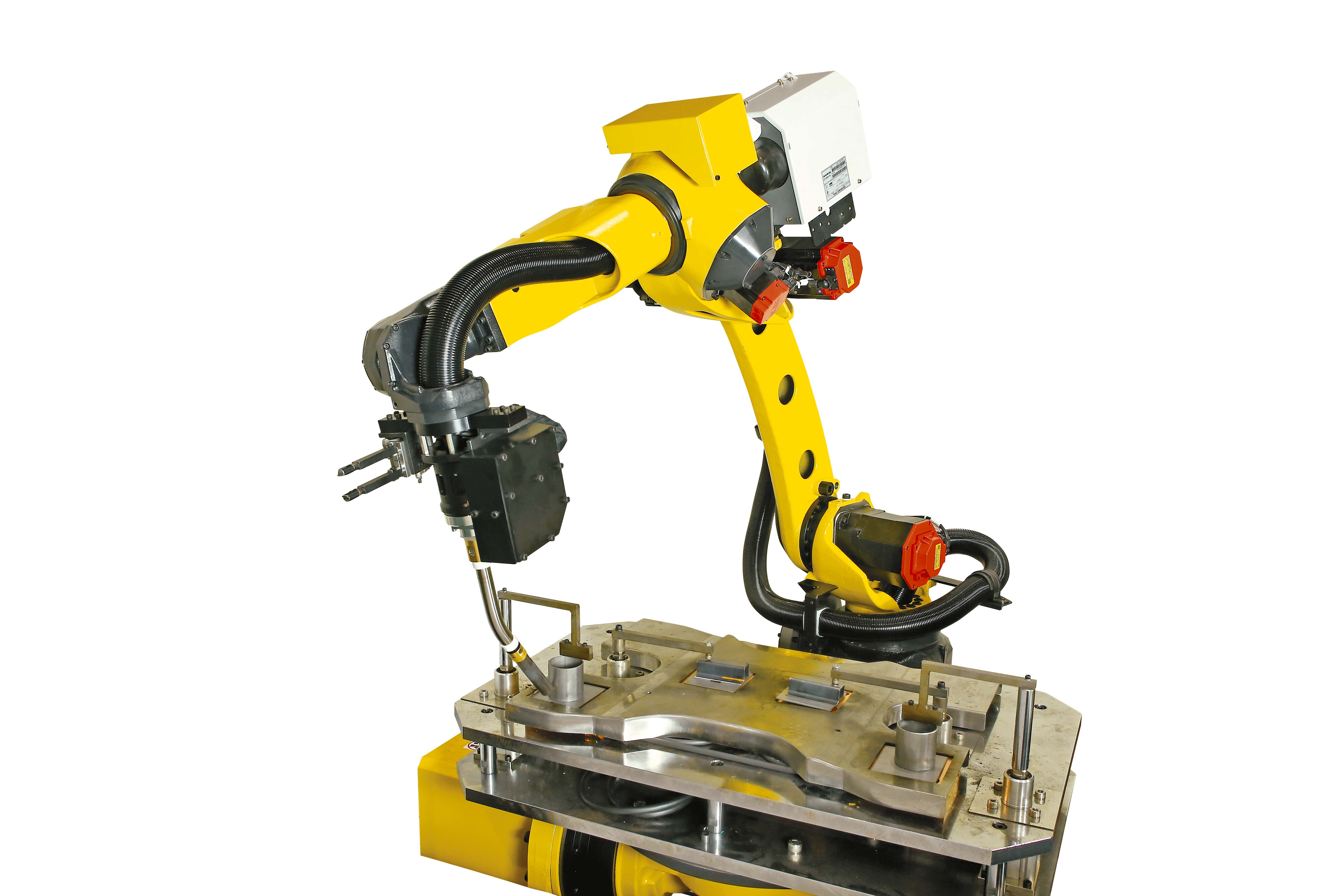 WeldBot provides all required services for FANUC robots, from new cells to preventative maintenance and even updating existing robotic cells
FANUC Robot Programming
Think of programming like any other skilled trade. If you were building you own home would you be better qualified to build the foundation or paint the walls? Leave the foundation work to the experts and allow WeldBot to setup and program your robotic weld cell creating a foundation that will not crack.
FANUC Robot Training
As long as you plan to keep your robotic weld cell having somebody on staff to support the machine will more than pay off. WeldBot can customize a training solution that fits your exact cell on-site. Why send your personnel off-site to attend a generic training class that more than likely does not cover your exact needs.
FANUC WeldPRO
Having worked with FANUC WeldPRO since it's inception no other integrator knows WeldPRO like WeldBot. WeldPRO is used in our daily routines and is absolutely critical in WeldBot evaluating your application and ensuring success. Coupled with PRO-Engineer we have the ability to Design, Simulate, and Program your robot before it is installed on your floor.
Servo Robot
Servo Robot provides the ability for robots to become adaptive like their human counterparts. Divided into Seam Finding and Seam Tracking, this allows the robot to detect the weld joint before striking an arc and to follow the joint if it moves during welding due to the heat input of the weld. Servo Robot is the next step in the evolution of arc welding robots.
WHAT OUR CUSTOMERS SAY ABOUT US

Levi Bowman
23:35 01 May 22
Awesome supplier of custom FANUC robotic welding cells and Automation. They also sell and repair FRONIUS welding equipment. The employees have a skill set that is not matched by other integrators.

Bob Larson
19:59 27 Feb 22
These are the best when it comes to Fanuc & Fronius! They build world class weld cells.

Paxton Boldry
23:24 01 Feb 22

These guys are awesome when it comes to welding!

Benjamin Borneman
04:48 01 Feb 22
WeldBot offers great solutions for robotic automation of welding processes. The expertise they bring to the table is priceless!

Steven Whitenhouse
03:46 01 Feb 22
With the Fronius welding equipment that WeldBot uses they can make perfect looking welds using a robot. With the many different welding processes available to them, they have the tools required to get the job done

Paul Ivers
03:43 01 Feb 22
If you need a custom robotic welding cell this is the best company to call!

Brian Faragat
03:38 01 Feb 22
These guys know everything there is to know about Fanuc robotics. They are experts at robotic programming, and know welding inside and out. Definitely a great choice if you need to automate your welding!

Brent Tucke
03:20 01 Feb 22
Weldbot is a seasoned, well trained company who has nothing but experience behind their employees. Their robotic welds are spot on every time with everything I have purchased from them has been top notch.Would recommend checking them out and getting all your welding needs done by them.

Steve Stoner
03:16 01 Feb 22
These guys are robotic welding experts! Especially when it comes to custom built systems!

John Tamburrino
01:44 01 Feb 22
The guys at WeldBot are extremely knowledgeable when it comes to Fronius Welding Equipment.

Jacoba Sparling
01:40 01 Feb 22
This company provides impeccable technical support and knowledge. They look at value engineering and provide a wealth experience for day to day welding automation requirements.

Laura York
01:24 01 Feb 22

Sandra Milhoan
01:18 01 Feb 22
WeldBot is a top notch company! So impressed with with the automation of the FANUC welding robot from the FRONIUS brand!

melissa conley
01:13 01 Feb 22
Great company for your welding needs.

Brandon Boldry is a hard working employee ! His knowledge about welding is incredible! Can't recommend enough.

Kathy Smith
01:11 01 Feb 22
Best welding I have ever seen!@

Katie Vasiloff
01:09 01 Feb 22
Great company with excellent welding and robot skills!

Daniel Conley
01:09 01 Feb 22
These guys do an awesome job welding.

Appreciate the great welding work done and help offered by Brandon. Great service, highly recommend

Michael Conley
01:06 01 Feb 22
What a great welding company! Thanks Brandon for all the work you guys did!

Hunter Vasiloff
01:05 01 Feb 22
Highly recommend! Great welding company.

Highly recommend WeldBot! Brandon was very knowledgeable and helped us a ton with welding our project.

These guys are awesome when it comes to welding! Brandon was very helpful and great customer service!

Lora Shaner
01:03 01 Feb 22
The guys at WeldBot have an extensive knowledge in robotics and industry leading welding technology, I highly recommended them!!!

Brandon Conner
01:02 01 Feb 22

Emily Wright
00:55 01 Feb 22
WeldBot produces impressive robotic welding systems that are operator focused and simple to use

WeldBot is a great resource for all of your welding automation needs! They excel at Fronius integration with FANUC robots.

Riley was a lifesaver! Fixed our fronius machine integration issues and saved our aluminum job. Highly recommend!

Bill Bradley
00:48 01 Feb 22
For all of your welding needs, I highly recommend Brandon Boldry at WeldBot in Akron.

Terri Bradley
00:45 01 Feb 22
Great place to experience some of the greatest welding technology available.

Lucia Spacek
00:40 01 Feb 22
Weldbot will not only solve your robot issues, they will troubleshoot and fine-tune your welding processes. Very organized guys. Would hire again.

Chuck Wallace
00:27 01 Feb 22
There is not another Robot Integrator out there that knows Welding better than Weldbot. With their knowledge of FRONIUS and FANUC the guys at Weldbot make the seemingly impossible possible.

Tim Conley
00:23 01 Feb 22
I'd highly recommend this company. Brandon did a great job helping me with my welding needs.

Phillip Sladek
00:20 01 Feb 22
Great group of guys . Awesome product knowledge.Best supplier of Fanuc robot systemsalso FRONIUS welding equipment

tricia conley
00:17 01 Feb 22
Great company! Highly recommended for all of your welding needs, big or small!

Great company to purchase FANUC Robots and FRONIUS welding equipment

Ashlee Noyes
00:06 01 Feb 22
Great group of people over at Weldbot. They sure are passionate about welding and automation.

Beverly Sladek
00:05 01 Feb 22
Weldbot is the best place to get what you need for any of your welding or robot needs.

heather sladek
00:02 01 Feb 22
These guys are the best when it comes to welding!

racingchick249
00:02 01 Feb 22
Amazing experience with this company. Their welding is excellent!

James Noyes
00:02 01 Feb 22
The guys at WELDBOT live and love welding! Great group of people.

kalina sladek
00:01 01 Feb 22
This place works with robots and does welding. They are awesome!

Brandon Boldry
00:01 01 Feb 22
Great guys building great equipment!!!! Great service to boot! Its hard to beat a Fanuc robot paired with a Fronius TPSi unit!

Andrew Sladek
00:00 01 Feb 22
These are the best automation robots and welders anywhere around Ohio!

Matthew Streit
12:19 07 Jul 21
Riley was able to troubleshoot issues in our robotic cell by working alongside Fanuc and our integrator. Prior to his arrival, these issues had been plaguing the cell for months and were causing many hours of rework. During his time at our facility, he was also able to share some of his knowledge of Fanuc robots, which left our robotic team in a much better position to achieve future success. It is clear this company employs only the most capable technicians and we were very satisfied with the experience overall.


Riley Ogilvie
01:23 03 Dec 20
WeldBot is very capable in their abilities to troubleshoot and understand what needs to be done to make a welding automation system work properly.

George Bowman
22:12 12 Oct 20
Excellence customer service.. Very professional and hard working. They went out of there way to get me what I needed. Thanks so much.

Peggy Bowman
22:05 12 Oct 20
Levi and Riley are very knowledgeable and friendly. I recommend WeldBot for all you robot needs. I always have a great experience there.
We know how hard it is to find good supporting documents for your robotic welding application. We strive to provide you with articles, videos, and other technical resources in our blog!
Oberlin, OH – Thanks to the newly formed partnership between WeldBot and Lorain County JVS, students in the Welding and Fabrication program have a new FANUC CRX Cobot, a collaborative [...]
A long time robotic integrator RobotWorx closes it doors severing all existing contracts that it build with customers over a 30 year period. Sadly this is another example of a large co [...]