WeldBot focuses on the most challenging application in Robotics, Arc-Welding. With this focus we are better able to meet the challenges associated with welding more so than any other FANUC Integrator. Robotics and Welding each require their own expertise, when you combine them a new and unique subset of skills are required to be successful.
With being brand exclusive to FANUC and not trying to know every available robot platform we truly understand the FANUC controller and can push the limits as needed.
FANUC is the most sold robot in the world, welding holds our world together, WeldBot knows both better than anybody else.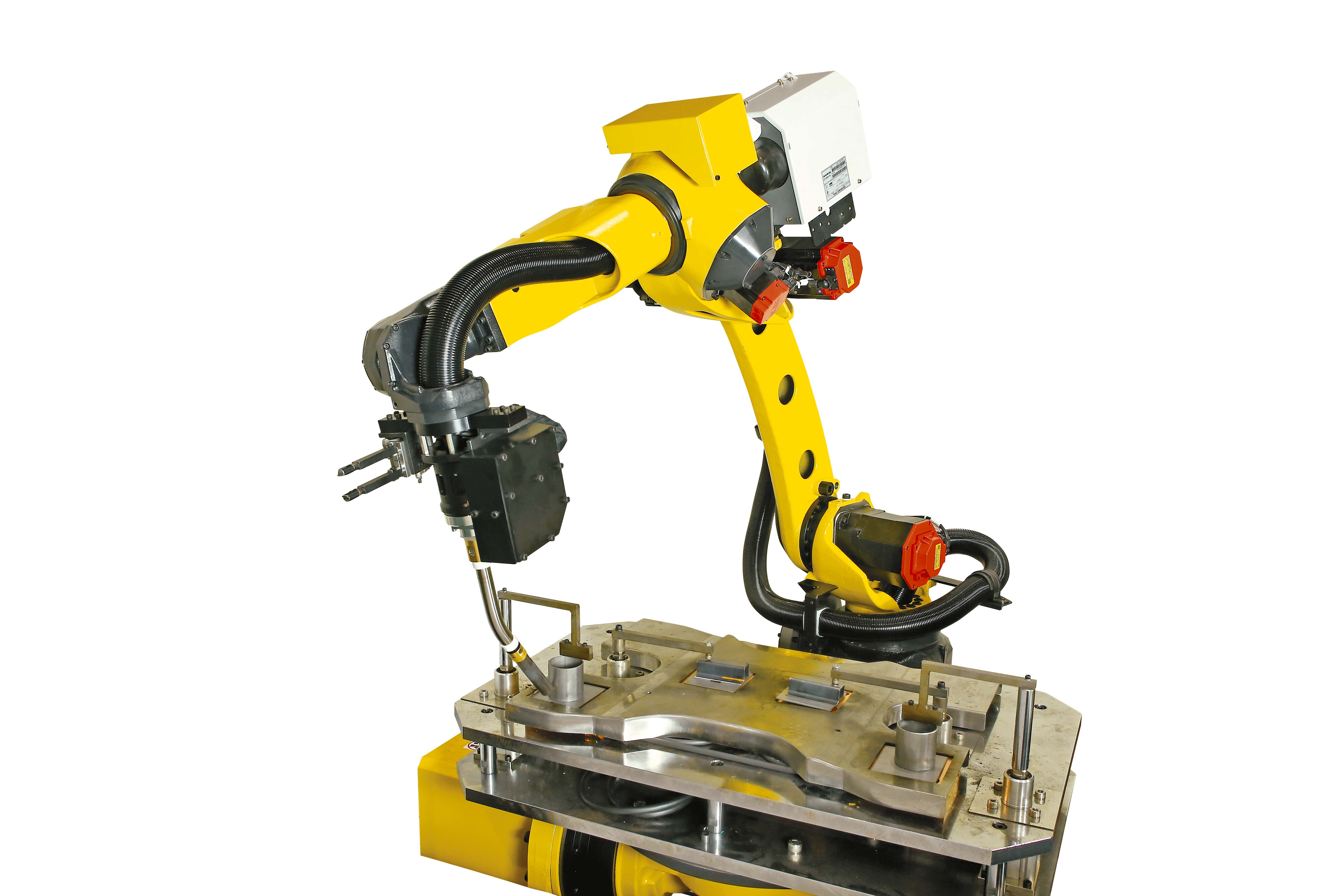 WeldBot provides all required services for FANUC robots, from new cells to preventative maintenance and even updating existing robotic cells
FANUC Robot Programming
Think of programming like any other skilled trade. If you were building you own home would you be better qualified to build the foundation or paint the walls? Leave the foundation work to the experts and allow WeldBot to setup and program your robotic weld cell creating a foundation that will not crack.
FANUC Robot Training
As long as you plan to keep your robotic weld cell having somebody on staff to support the machine will more than pay off. WeldBot can customize a training solution that fits your exact cell on-site. Why send your personnel off-site to attend a generic training class that more than likely does not cover your exact needs.
FANUC WeldPRO
Having worked with FANUC WeldPRO since it's inception no other integrator knows WeldPRO like WeldBot. WeldPRO is used in our daily routines and is absolutely critical in WeldBot evaluating your application and ensuring success. Coupled with PRO-Engineer we have the ability to Design, Simulate, and Program your robot before it is installed on your floor.
Servo Robot
Servo Robot provides the ability for robots to become adaptive like their human counterparts. Divided into Seam Finding and Seam Tracking, this allows the robot to detect the weld joint before striking an arc and to follow the joint if it moves during welding due to the heat input of the weld. Servo Robot is the next step in the evolution of arc welding robots.
WHAT OUR CUSTOMERS SAY ABOUT US

Alexander Barlow
18:16 23 May 23
We recently had the opportunity to have a technician onsight to support us with our advanced welding process. WeldBot was able to support and train us better than the OEM. Thanks

Kenneth Horning
21:21 11 Mar 23
Very helpful and friendly people great service

Big Ed and Petey
17:31 20 Dec 22
Easy to find. Plenty of room for a spread axle to turn around. Looks tight but it can be done. The folks are very quick to load. They are extremely nice. Wish every pickup was this way.

Levi Bowman
20:53 01 Oct 22
Awesome supplier of custom FANUC robotic welding cells and Automation. They also sell and repair FRONIUS welding equipment. The employees have a skill set that is not matched by other integrators.

Philip Peters
18:11 09 Sep 22
I was given the opportunity to meet some of the individuals at WeldBot recently when their FANUC Robot was displayed at an event. Awesome group of guys who truly care about their community.Would recommend reaching out to any of the ladies or gentlemen there if your business is in need of any form of automation. 10/10

Had the pleasure of meeting part of the Weldbot crew at Ohio Range Day 2022 and I was absolutely impressed! The FANUC Robot swinging the American Flag was awesome and the FRONIUS Welder system seemed impressed. What great to talk Tactical Games with some of their staff and hope to see them out at an even or AHT training weekend. If you are in the market for robotics tech or have any interest in arc welding, they are the ones to get ahold of for all of your manufacturing needs as they have amazing products and customer service. If I knew anyone in these fields I would definitely recommend them.

Kyle Hendrickson
13:47 09 Sep 22
Solid group of guys at WeldBot! Spent a weekend with some of the crew, and they're knowledgeable and invested into providing the best services to their clients with their FANUC Bot and FRONIUS welder! Seeing their product demoed was a very neat experience. Highly recommend talking to their team to see what they can do for you and your business!

Vince Colaiacovo
01:33 09 Sep 22
Had the pleasure of talking shop with a few members of the weldbot staff recently. Couldn't have been a smoother interaction. Being in the welding and fabrication manufacturing business for the last decade…new innovative, reliable, assets to my work are always an area of interest. Robotic welders have always been problematic in my past but also beneficial to production efficiency when operating in the green. Talking with this staff about the refined details and new features of the FRONIUS welder paired with the FANUC robot made it an easy decision to bring this information back home and push it to my company to replace our intermittent Lincoln electric system. Weldbot is complementing their reliable products with other reliable companies and delivering a worry free package from an extremely friendly and supportive staff. Couldn't have asked for better experience chopping it up with these guys and looking forward to continuing to work with them in the future!

Johnny "ElysianOfficial" Scheuermann
22:40 08 Sep 22
Weldbot is not only one of the coolest companies in Ohio, but is run by a team of absolute savages who are some of my favorite people Ive met since moving here. Ive had the opportunity of capturing both photo and video media for WeldBot, and their work with the FANUC robot is some of the coolest stuff Ive ever had the pleasure of capturing! If you are in the manufacturing industry, I highly recommend Weldbot for intiuitive, creative solutions!

Brandon Bonnett
19:12 08 Sep 22
Weldbot had the FANUC Robot on display at an event and it ran flawlessly. They explained the FRONIUS Welder and how it worked and was more efficient and accurate than the human counterpart. Absolutely amazing company with awesome people running it. Highly recommend.

Mark Mashburn
14:06 01 Sep 22
Weldbot showcased some impressive and innovative products, including the FRONIUS Welder, as well as an excellent depth of industrial knowledge and application solution assistance. Great group of guys to talk to for your welding automation needs.

Johnathan Brennan
18:10 31 Aug 22
Recently collaborated on a project with Weldbot, and I couldn't be more satisfied with the staff and equipment they provide. The FANUC Robot and FRONIUS Welder are really something!

Josh Costell
01:28 31 Aug 22
Had the pleasure of meeting part of the Weldbot crew this past weekend and I was absolutely impressed! FANUC Robot. FRONIUS Welder. If you are in the market for robotics tech or have any interest in arc welding, they are the ones to get ahold of for all of your manufacturing needs.

Arthur Flores
16:42 28 Aug 22
Had the pleasure of working with the staff of Weldbot on a recent project. Their knowledge of the FANUC Robot and FRONIUS Welder are unmatched. I would highly recommend Weldbot for all of your manufacturing needs.

David Lindenschmidt
15:10 27 Aug 22
Their staff is extremely helpful and friendly. Answered all my questions about the FANUC ROBOT and FRONIUS Welder. Awesome stuff

Bob Larson
19:59 27 Feb 22
These are the best when it comes to Fanuc & Fronius! They build world class weld cells.

Paxton Boldry
23:24 01 Feb 22

These guys are awesome when it comes to welding!

Brian Faragat
03:38 01 Feb 22
These guys know everything there is to know about Fanuc robotics. They are experts at robotic programming, and know welding inside and out. Definitely a great choice if you need to automate your welding!

Brent Tucke
03:20 01 Feb 22
Weldbot is a seasoned, well trained company who has nothing but experience behind their employees. Their robotic welds are spot on every time with everything I have purchased from them has been top notch.Would recommend checking them out and getting all your welding needs done by them.

Steve Stoner
03:16 01 Feb 22
These guys are robotic welding experts! Especially when it comes to custom built systems!

John Tamburrino
01:44 01 Feb 22
The guys at WeldBot are extremely knowledgeable when it comes to Fronius Welding Equipment.

Jacoba Sparling
01:40 01 Feb 22
This company provides impeccable technical support and knowledge. They look at value engineering and provide a wealth experience for day to day welding automation requirements.

Laura York
01:24 01 Feb 22

WeldBot is a top notch company! So impressed with with the automation of the FANUC welding robot from the FRONIUS brand!

melissa conley
01:13 01 Feb 22
Great company for your welding needs.

Brandon Boldry is a hard working employee ! His knowledge about welding is incredible! Can't recommend enough.

Kathy Smith
01:11 01 Feb 22

Katie Vasiloff
01:09 01 Feb 22
Great company with excellent welding and robot skills!

These guys do an awesome job welding.

Appreciate the great welding work done and help offered by Brandon. Great service, highly recommend

Michael Conley
01:06 01 Feb 22
What a great welding company! Thanks Brandon for all the work you guys did!

Hunter Vasiloff
01:05 01 Feb 22
Highly recommend! Great welding company.

Highly recommend WeldBot! Brandon was very knowledgeable and helped us a ton with welding our project.

These guys are awesome when it comes to welding! Brandon was very helpful and great customer service!

Lora Shaner
01:03 01 Feb 22
The guys at WeldBot have an extensive knowledge in robotics and industry leading welding technology, I highly recommended them!!!

Brandon Conner
01:02 01 Feb 22

Emily Wright
00:55 01 Feb 22
WeldBot produces impressive robotic welding systems that are operator focused and simple to use

WeldBot is a great resource for all of your welding automation needs! They excel at Fronius integration with FANUC robots.

Magicersei
00:51 01 Feb 22
Riley was a lifesaver! Fixed our fronius machine integration issues and saved our aluminum job. Highly recommend!

Bill Bradley
00:48 01 Feb 22
For all of your welding needs, I highly recommend Brandon Boldry at WeldBot in Akron.

Terri Bradley
00:45 01 Feb 22
Great place to experience some of the greatest welding technology available.

Lucia Spacek
00:40 01 Feb 22
Weldbot will not only solve your robot issues, they will troubleshoot and fine-tune your welding processes. Very organized guys. Would hire again.

Tim Conley
00:23 01 Feb 22
I'd highly recommend this company. Brandon did a great job helping me with my welding needs.

Phillip Sladek
00:20 01 Feb 22
Great group of guys . Awesome product knowledge.Best supplier of Fanuc robot systemsalso FRONIUS welding equipment

tricia conley
00:17 01 Feb 22
Great company! Highly recommended for all of your welding needs, big or small!

Great company to purchase FANUC Robots and FRONIUS welding equipment

Ashlee Noyes
00:06 01 Feb 22
Great group of people over at Weldbot. They sure are passionate about welding and automation.

Beverly Sladek
00:05 01 Feb 22
Weldbot is the best place to get what you need for any of your welding or robot needs.

heather sladek
00:02 01 Feb 22
These guys are the best when it comes to welding!
We know how hard it is to find good supporting documents for your robotic welding application. We strive to provide you with articles, videos, and other technical resources in our blog!
Oberlin, OH – Thanks to the newly formed partnership between WeldBot and Lorain County JVS, students in the Welding and Fabrication program have a new FANUC CRX Cobot, a collaborative [...]
Manufacturing company seeks one candidate for the position of Welding Automation Engineer in Akron, Ohio. Job duties include building custom automation systems for customers. Inte [...]
A long time robotic integrator RobotWorx closes it doors severing all existing contracts that it build with customers over a 30 year period. Sadly this is another example of a large co [...]